Reading Time:
7
minutes
The Fourth Industrial Revolution and Virtual Reality
Across the world, Oil & Gas (O&G) companies provide us the energy requirements that makes modern human lives possible. They have always been at the forefront of adopting new and innovative technologies as they endeavor to deliver value to customers and better returns to their shareholders. They are very competitive and continually seek improvements to their operations and achieve operational excellence.
Safety is always the top most priority for all O&G companies considering the inherent hazards of the materials they daily handle, refine and transport. In addition to the focus on safety, O&G companies place great emphasis on compliance with local, national and industry regulations, codes and best practices. Above all, they value their employees and promote training and upgrading their skills and competencies to ensure top-quartile performance in the industry.
It is therefore not surprising to see Oil & Gas companies investing in virtual reality to further improve their operations. Virtual Reality is one of the key immersive technologies in Industry 4.0 or The Fourth Industrial Revolution. This latest industrial revolution is happening right in front of our eyes and impacting our lives already. Industry 4.0 is a suite of technologies is driving the transformation today's industries into smart factories and using VR in Oil and Gas industry is happening rapidly. Virtual Reality (VR) technology brings you psychophysics-based solutions that are unique, cost effective and highly efficient. The deliver immersive, scenario-based, gamified experiential learning.
Oil & Gas majors across the world such as ExxonMobil, Shell, BP, Aramco, Phillips 66, Qatar Petroleum, ADNOC have undertaken significant initiatives to implement virtual reality technology in their business operations. In India, companies such as ONGC, Indian Oil are also exploiting opportunities to implement VR solutions in their businesses. It is clear that the CEOs and CTOs of these companies recognize the value VR brings and want to harness its advantages effectively.
Importance of Virtual Reality to Oil & Gas industry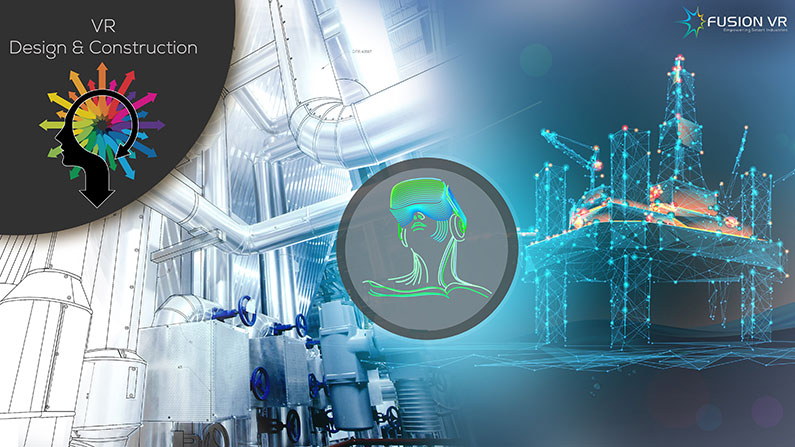 The Oil and Gas industry encompasses a wide range of manufacturing activities. From exploration, production, pipeline operations, refining, transportation and distribution, the diversity of operations is stupendous.  These operations are spread all around the world, both onshore and offshore, across different geographies and in very inhospitable conditions. Both crude oil and natural gas are inherently hazardous and personnel engaged in the conduct of these operations are required to understand the nature of these hazards and operate according to carefully developed standard operating procedures. They also have some components such as hydrogen sulfide that is extremely toxic to human life. A great deal of operational discipline and focus is required to ensure the safety of people and the assets at every step of the way. This industry is quite critical, considering the importance of Oil and Gas to many national economies and the impact of its supply and demand, on the lives of the general public.
Any interruption to facility operations, affects the market significantly and requires Oil and Gas companies to focus on safety, reliability, throughput and uninterrupted operations. Outages are carefully managed and facilities are restored back to normal operating rates as quickly as possible. As a result, it requires a highly skilled and motivated workforce to deliver top level performance day after day. Attracting the right talent, delivering effective training and retaining them is a perennial challenge for companies in this sector.
Virtual Reality in Oil and Gas industry can revolutionize all facets of the above highlighted operations highlighted and delivers in improve safety, productivity and profitability compared to conventional or traditional approaches.
How Virtual Reality (VR) used in the Oil and Gas industry
Many industry professionals are curious about using VR in a refinery, drilling platform or pipeline operations. VR in Oil and Gas industry is used to improve design processes used for the construction of plant facilities. VR enables real time collaboration of engineers and specialists from different disciplines to collaborate in real time. This reduces the time to complete the design and associated reviews before drawings are issued for final construction. In addition this enables safety in design reviews that ensure plants are designed to maximize the safety of personnel who will eventually operate and maintain those facilities.
VR is also used during the exploration of new Oil and Gas deposits. Application such as 3D seismic volume interpretation, drilling trajectory design etc. are a few examples of VR in Oil and Gas industry. Geologists and engineers are able to understand the subsurface topography that enables better estimation of Oil and Gas reserves. In addition, it helps to plan drilling operations effectively, increasing efficiency and saving costs.
How Virtual Reality Refinery Training for Operations and Maintenance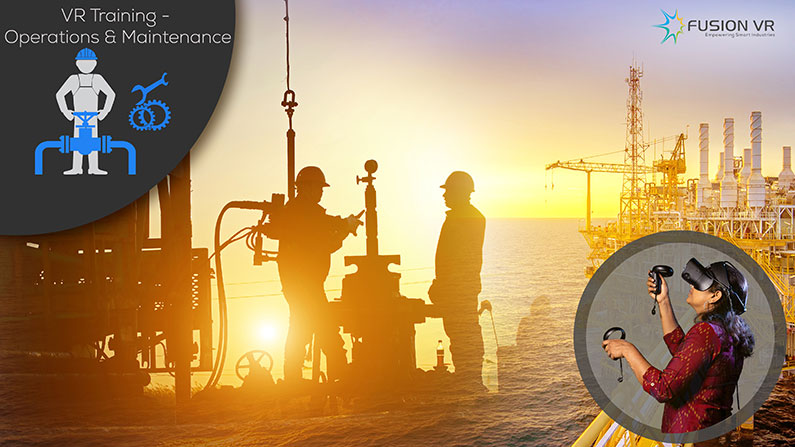 Perhaps the most exciting area of application of virtual reality in Oil and Gas industry is improving human competencies in the operations and maintenance. Human error is the largest contributor for workplace injuries and fatalities in addition to causing unplanned shutdowns, production losses and increased maintenance costs. PWC has reported that employees' trained using VR technology are four times  more focused than conventional classroom training methods. In addition to that it is four times faster, 3.75 times more emotionally connected and delivers a 40% improvement in employee confidence. Every desirable outcome from a training program gets delivered with VR training. While this sounds magical, the results are astoundingly true.
Operator Training Simulators recreate highly realistic plant environments and enable new employees and trainees to perform all steps as per the Standard Operating Procedures (SOP). This creates muscle memory that is carried with the employees when they are required to perform the same operations in the actual plant. What is very exciting is that these can be performed multiple times until the required competency is achieved in a completely safe office environment. Oil and Gas VR training is gamified and appeals to the millennial generation. Similarly, Maintenance Training Simulators provide training on important maintenance activities such as overhaul of sophisticated compressors, turbines, pumps, instrumentation etc. in the manner described in Standard Maintenance Procedures (SMP). Assembly and disassembly is practiced until it is perfected. Performance can be reviewed independently or feedback provided by an experienced supervisor or foreman using the virtual reality training platform.
How Health and Safety Training in VR
As mentioned before, employee and process safety receives the highest priority in this industry. Employees are exposed to Virtual reality safety training programs on basic safety procedures such as fire extinguishers, LOTO, confined space entry and emergency response activities. VR PPE training is a sought after program to help employees learn about its proper use. The ability of virtual reality safety training applications to provide practice without impacting plant operations is a significant advantage and helps plant personnel enhance their capabilities and readiness when required to respond effectively to emergency situations.
How Virtual reality Fire and Safety Training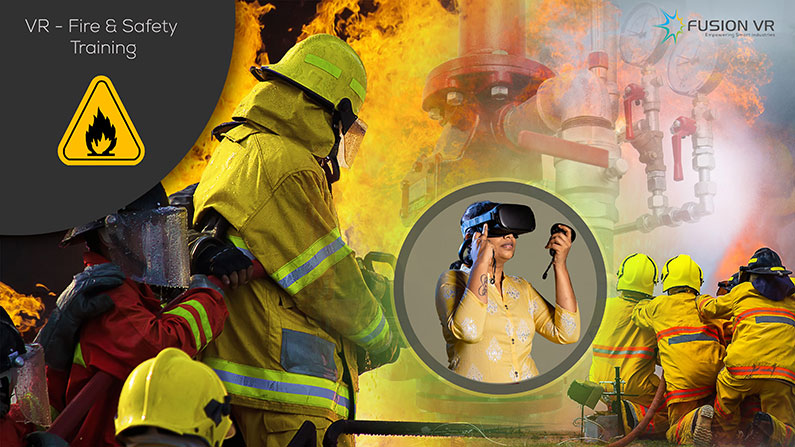 There are numerous VR use cases in Oil and Gas industry waiting to be uncovered with popular devices such as oculus quest in safety training. This is a great opportunity for virtual reality safety training companies to harness the power of virtual reality technology for enhanced learning outcomes. One can find many examples of virtual reality safety training videos that explain to some extent how this technology works.  However, designing them effectively for widespread use is a challenging task. Well-designed virtual reality safety training software can develop strong safety habits and pave the way for a great safety culture in the company's future.
How leading Oil and Gas companies are adopting virtual reality
ExxonMobil, one of the world's leading energy companies is using virtual reality solutions for its operators and technicians through its tech hub called digital garage. They have developed immersive VR simulation modules that train operators on basic and complex tasks that they would be required to perform and assess their responses to different scenarios. The VR training program transports operators virtually onto an LNG tanker, oil rig or a refinery. They have developed dynamic process simulators that create realistic training scenarios based on actual plant operating conditions.  Such experiences develop them with the skills, competencies and confidence to work smarter and safer.
Another global oil major, Shell has also been using VR for training and simulation-based learning. They use Virtual Reality training software that take engineers on virtual geological field trips, explore actions for emergencies and the working of equipment such as pumps and compressors and enable real-time, collaborative discussion amongst our teams to better understand and resolve maintenance or operational issues with specialists.
BP too uses VR to address training needs across its organization. They use the Immerse VR and simulation platform to create models of its offshore assets, safety training or virtual onboarding for employees on complex installations. This helps them establish familiarity on say, offshore platforms before they get there or even without even needing to get there. This saves time, money and effort!
Digital transformation is happening in a big way at Aramco, the world's largest oil company. VR is being implemented to reduce the cost and duration of training in safety and operations. Such training enhances the ability to deploy personnel with the highly effective virtual reality safety training solutions in a very short duration. The ability to raise the level and quality of human performance is dramatically accelerated by VR training. Similar initiatives are underway in ADNOC, the national oil company in the United Arab Emirates. The ADNOC Virtual Energy Center, the first-of-its-kind online platform is helping to transform it into an Oil and Gas company of the future.
While global oil majors have the resources and infrastructure to commit towards implementing these technologies, the oil companies in India are not far behind. ONGC, Oil India, Indian Oil, BPCL, Reliance etc are taking initiatives to harness the potential of VR training platform in their organizations. This also applies to other National and International Oil companies across the world.
The Future of VR
The extent and depth of interest in deploying virtual reality across the Oil and Gas industry is indicative of the potential benefits and the race to gain a competitive edge in their businesses. The most important consideration that all these companies need to incorporate into their strategies is the engagement of the right technology partner to help them with the scoping, design and implementation. This is easier said than done as not every Virtual reality company can provide such expertise. Technology partners and consultants need domain knowledge as well to effectively understand and support. Such companies are fewer in number and they also need to demonstrate good project execution and management capabilities. Fusion VR provides virtual reality solutions for the Oil and Gas industry and has demonstrated the capabilities and resources to not only handhold but efficiently execute such projects with a team of top notch professionals and SMEs. We are at the forefront of developing and implementing strategies to guide businesses in the right direction. Plus we possess proprietary VR training platform to help customers implement VR solutions quickly.
The Oil & Gas industry is headed in the right direction with digitalization initiatives such as virtual reality implementation for delivering operational and safety excellence. The path may be new, but they are bold in taking these steps as the care about the future of their people and the organization in the 21st century. Technology has improved the competitiveness within the industry and the fittest to adapt to the challenges of the new millennium will only survive.