Reading Time:
6
minutes
What do companies like Anglo American, BHP, Caterpillar, Newmont and Rio Tinto have in common? Apart from the well-known fact that they are leaders in the mining industry, they are also the companies that are spearheading the effort to digitalise their businesses and are implementing some cool Industry 4.0 technologies.
They are deploying technologies that are ushering in the fourth industrial revolution. The most prominent of these technologies is Augmented Reality or AR, which they are implementing within their organisations to help develop competitive advantages that propel them to the next level of operational excellence.
Importance of the Mining Industry for the Energy and Utility Sector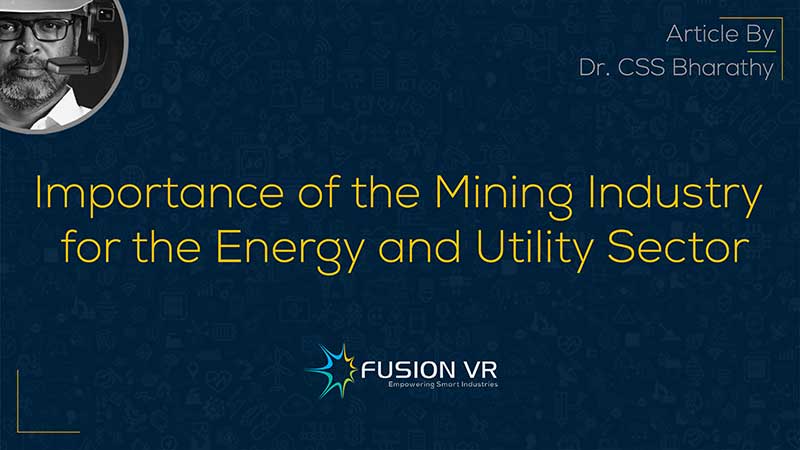 The mining industry is a strategically important industry for every nation. The nation's wealth that is found underground is brought to the surface by this industry. It is involved in various activities that include the extraction of minerals, their processing and marketing to many downstream industries. The steel industry, for example, delivers all kinds of steel to every conceivable industry in the world.
They use various processes to perform these activities and enable them to be packaged and marketed to enable value addition further downstream. Mining operations benefit the energy and utility sector, including nuclear power plants, and also steadily serve the metallurgical and structural companies.
This industry engages a lot of manpower, high technology and critical machinery. They are also capital-intensive and deploy many critical machinery and equipment. The people required need to be qualified as well as highly skilled. They also need to be trained to ensure the safe and reliable operation of those facilities.
Most of the work done by the mining industry is performed in remote locations, and not everyone ventures to work in such places. In such a scenario, the training and competence of workers and engineers assume greater importance. The safety of personnel carrying out these operations is also an important area of concern.
Using Augmented Reality for Improving Training in Nuclear Power and Mining Companies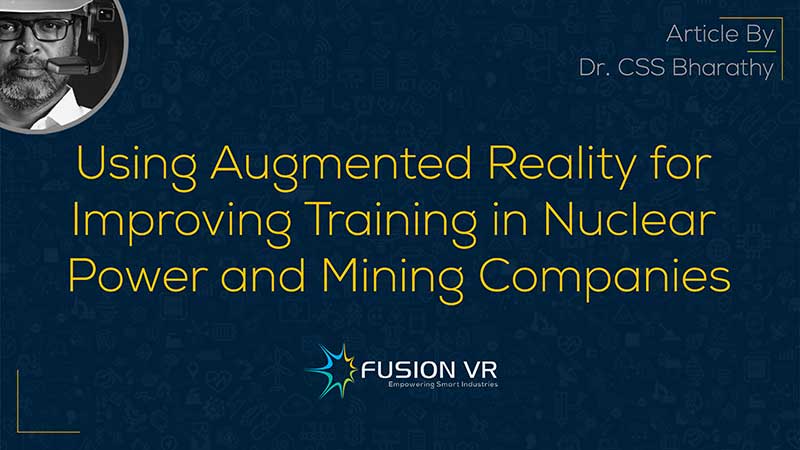 Mining operations are carried out both in the open and underground. Both are complex operations and impact the safety and efficiency of operations. They are also performed with minimal supervision and entail a lot of physical risks, such as exposure to toxic gases, engulfment and entrapment.
One may recall the ordeal of 33 miners in the gold and copper mine in Chile. These miners were trapped for 69 days before they could be rescued. The mining industry, globally, has a poor safety record, and it usually engages personnel with low educational levels to perform largely manual work.
Though safety requirements have increased, accidents continue to happen, considering the inherent risks in the mines themselves. The industry often uses extremely large equipment, and as such proper equipment maintenance is an area of importance as well. These issues need to be resolved quickly to ensure the safety of personnel and assets and improve the productivity and profitability of mining operations.
Augmented reality is a simple yet powerful technology that is available to address these challenges. Several use cases can be developed to address many of these pain points that we described above. Broadly speaking, augmented reality in mining industry has great potential in India and around the world, and it is evident that many global mining companies have begun efforts to tap into the advantages that it offers.
AR for nuclear power & mining companies has great potential for training here. We try to illustrate the steps needed. The first and major step towards improving the safety of people and assets and gaining improvements in productivity is looking closely at how people are trained. The effectiveness of training is a key indicator in achieving these improvements.
AR Training Simulators for Mining Equipment Operations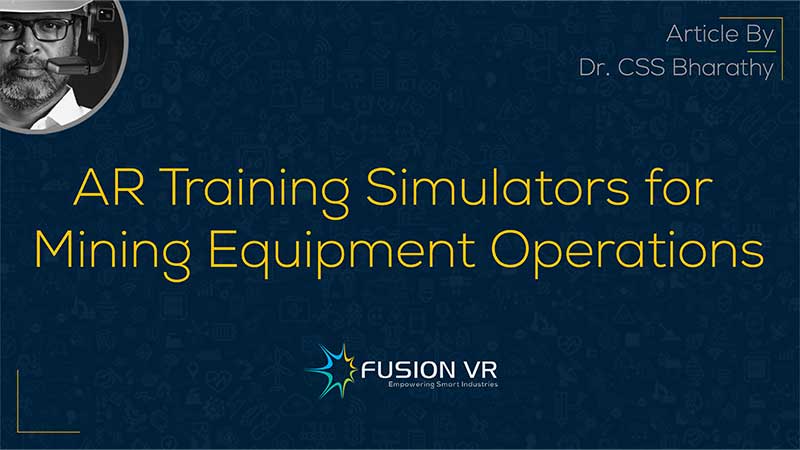 Augmented Reality is an easily accessible technology that is available on devices such as smartphones and tablets and also easy-to-use wearables such as goggles. Augmented reality overlays relevant, essential and contextual information on what the user sees through the device's camera. Information that is overlaid, particularly in industrial applications, helps users to perform their activities more safely and efficiently.
Let's take, for example, one of the operations in a mining environment where a worker needs to go down a shaft. Typically, they wear the recommended personal protective equipment or PPE. Training personnel to identify the right PPE for the activity immensely helps ensure the employee's safety. Though PPE is known as the last line of defence, wearing the most appropriate PPE for the hazards to be encountered is usually not easy.
A well-designed AR application not only trains them on choosing the right PPE but could also help verify if they have been correctly used. Shift leaders and supervisors, with their AR-enabled devices, can scan each employee to ensure that they are using the right PPE in the correct manner before giving them the go-ahead to engage in their assigned activities. This is a simple yet effective AR use case that assures worker safety.
There are varying degrees of machine operations involved in the mining industry. As mentioned earlier, they use really massive earth-moving machinery. Operating these machines needs long training. Furthermore, the machines need to be available to perform such training along with the presence of experienced training personnel.
These are constraints that each organisation needs to manage to ensure the optimal level of training is delivered. Augmented reality training simulators can come to rescue these companies with regard to these constraints. AR solution providers like Fusion VR can effectively engage with industry trainers to develop and customise training modules that provide basic and advanced simulators to train operators towards using these machines.
Augmented Reality for Equipment Maintenance and Remote Assistance in the Mining Industry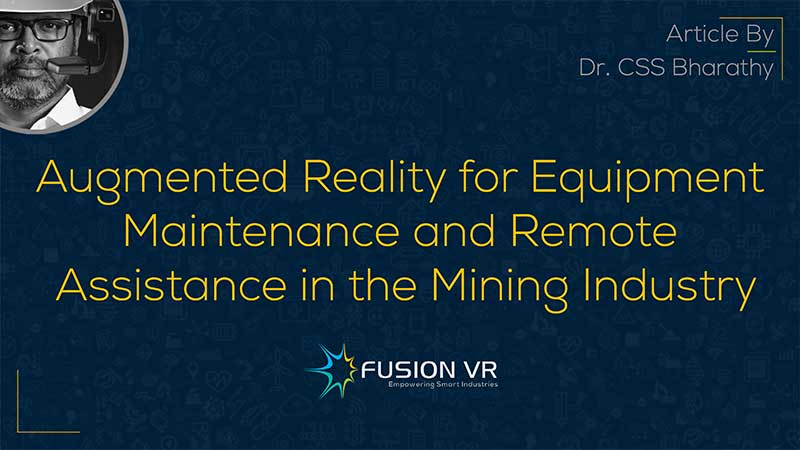 These modules would offer a combination of safety, equipment knowledge and operational training and effectively supplement the efforts of a human trainer. Typical equipment, such as loaders, shovels, forklifts etc., are used, and modules that break down every aspect of these machines are made available for employees to gain in-depth knowledge and competence.
These training simulators also track the user's performance and provide evaluation reports to the supervisor, who can act on the areas that need improvement. This saves a lot of time, effort and costs to achieve the necessary competence. The modules are gamified to assure higher engagement and retention.
The training of employees doesn't stop there. AR-enabled goggles to assist the employees in performing their tasks. Most operations in the mining industry are detailed in Standard Operating Procedures or SOPs. The AR solutions for training incorporate the steps found in SOPs to guide the operator during the execution of the task.
Companies can dump their paper checklists and use voice and visual instructions to ensure the correct, safe and timely steps are performed by every operator, every shift and every day of the year. It is a well-known fact that human error is one of the biggest causes of accidents, injuries and downtime in all industries and sectors. Augmented reality is going to be the most useful technology to help minimise the incidence of human error-related incidents.
When downtime does happen, as expected with machines due to wear and tear, it is important to fix the equipment issues quickly. Downtime means zero production, loss of revenue and unhappy customers. Since mining facilities are really remote, they may not have the right expertise on hand immediately, and it may often take days to get an expert over there.
Remote assistance using AR helps deliver expert help from anywhere in the world. AR-enabled goggles provide a clear view of the machine that is under maintenance to the expert, who sees what the technician at the facility sees and provides the most accurate instructions and guidance needed to restore the equipment to normal operation.
The implementation of AR for nuclear power & mining in India and all other countries has the potential to revolutionise the mining and nuclear power industries in India. These few examples highlight the various Augmented reality training platforms that can benefit the mining industry.
Mining industry leaders and executives do need to travel far or dig deeper to improve their operations continuously. They can seek out solutions providers like Fusion VR, who have the subject matter expertise and technological capabilities to deliver tailor-made solutions using Industry 4.0 technologies. One can easily see that augmented reality for the mining industry has a bright and purposeful future.