Reading Time:
5
minutes
The growth in computing technologies, the advent of 5G networks and the army of developers are pushing the boundaries of how museums are designed and operated in the 21st century. The integration of VR technology in museums, along with the regular museums of the world, is rapidly being created. While these innovations were recognised as possible many decades ago, they have now become more accessible as well as affordable. Thanks to the great advances in information and communication technologies.
Museums across the world have safeguarded valuable works and creations of mankind in addition to bringing to the masses the wonderful things that we see in the world. They have also preserved our cultural traditions enabling younger generations to learn, admire and appreciate them. They have often served as the bridge between the past, present and future. Human society needs museums to tell their past to future generations, and new technologies are making these VR museum experience more accessible, exciting and memorable.
Museums are also expensive to maintain and difficult to manage. An army of various experts is needed to maintain and curate the various artefacts. With more high-technology exhibits, engineers and technicians are also needed to operate and maintain them. It is also a challenge for certain groups of people to visit museums and enjoy them to the fullest.
For example, my 78-year-old grandmother may not be able to spend hours walking through a museum to enjoy its delights. Fortunately, technological solutions are at hand to deliver the same joy and fulfilment that one experiences during a real visit through digital means. Many museums now have their own virtual museums to cater to all groups and particularly to those who need them the most.

Designing Immersive and Engaging Virtual Museum Experiences through UX Design and Ambience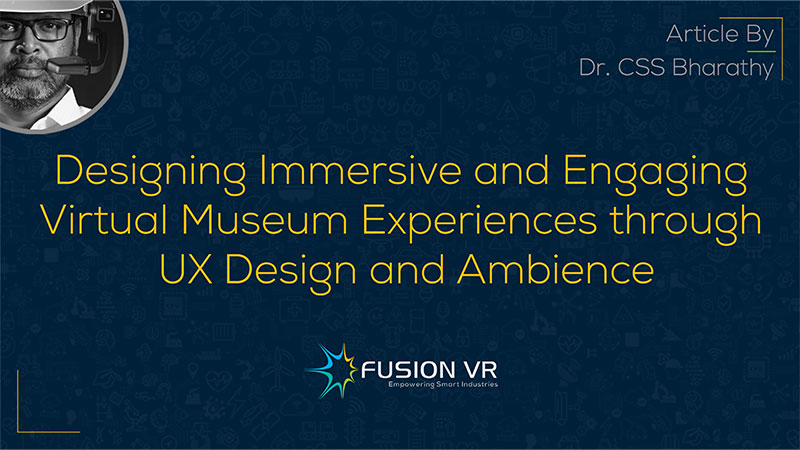 A virtual museum is a digitally created museum that would house exhibits and experiences that can be accessed through digital devices using technologies such as augmented and virtual reality. To provide the best possible virtual museum experience, they need to be designed to be highly interactive, engaging as well as meaningful to the visitor. This effort begins even before they click and enter the virtual interactive museums.
The overall user experience design should consider an extremely easy, intuitive approach that makes it as simple as walking through a physical museum and enjoying its wonders. The user experience is usually referred to by the two letters UX by all software designers. UX designers need to understand human interaction with technology and how to make it fulfil their needs.
There are various factors that influence the effectiveness of the interactive design and user experiences. This is a field that is now being specialised at many universities across the world as the demand for digitalisation and digital services is exponentially increasing.
First and foremost is designing the right ambience for the virtual museum depending on what the museum is planning to exhibit or let its visitors experience virtually. The tone is really important to make users comfortable in the virtual environment. The visual design should be welcoming and put people at ease to enable maximum enjoyment.

Enhancing Virtual Museum Experiences with UX Design and VR Technology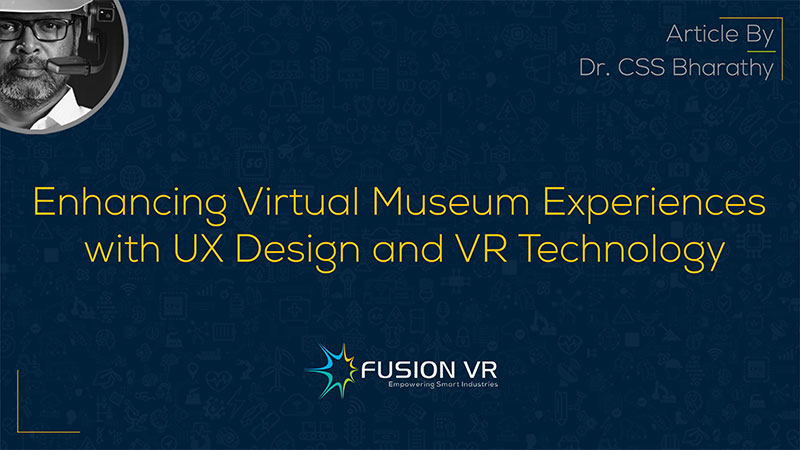 They also need to be optimised as users are bound to access them with their own kinds of devices and operating systems. Experienced web designers know this too well and design the interfaces accordingly.
The user interface design becomes very crucial here as it should be simple and intuitive for users to effortlessly navigate to all the artefacts and view in greater detail whatever the museum has to offer. If the visitor is enjoying a digital exhibit of a painting masterpiece, designers need to present relevant information and data through voice or text to the user in a well-choreographed manner.
It also needs to allow the user to remain fully in control of their experience. Navigating through virtual hallways and passages must be an enjoyable experience as they should find it easy to locate anything.
Furthermore, there will be an increasing number of interactive exhibits in a virtual museum. There will be no artefacts that will be degraded or damaged. The interactive design of each exhibit will enable more interaction and deliver the best user experience.
Creative and technical professionals need to collaborate on making this a fun and rewarding effort. Designing fun into interactive exhibits is not a simple task. Using virtual reality to deliver an interactive experience is an amazing effort. The completely immersive experience provided by VR will deliver the user a feeling of being actually in a physical museum.
They are immediately disconnected from the real environment surrounding them in this virtual museum. The VR experience centre allows six degrees of freedom which translates as the ability to look and move in all directions. Users can move around or teleport themselves to various sections with just a click of a button on their VR controllers in this VR experience centre.
The best way to find out about the interactive design and user experience of any virtual museum is to begin visiting the best in the world. They offer the opportunity to explore the history, technology, culture, art and much more from the comfort of your own home. It's also a great way for families to huddle around and explore these wonders, making it a way to spend quality time with their loved ones.

The Importance of Interactive Design in Virtual Museums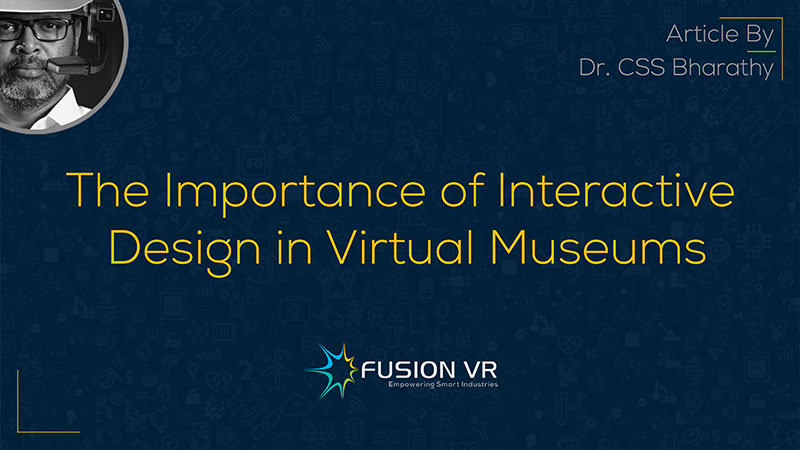 The Louvre Museum in Paris, France, houses some of the world's best art collections. The famed Mona Lisa is at this very museum which offers virtual tours to see its magnificent collections. Across the English Channel, the British Museum in London is home to a vast collection of artefacts from around the world, thanks to the reach and influence of the British Empire over the last three centuries.
This museum also offers a virtual tour for visitors from anywhere in the world. A lot of audio-visual guides are available for visitors to deliver a completely unforgettable experience. Across the pond, in America, home to some of the greatest museums is the Smithsonian museum of Natural History in its capital city of Washington, D.C. The virtual museum offers a close view of flora and fauna, including extinct species such as the dinosaurs.
In addition to these, the museum also enables visitors to access its ever-continuing research, conservation and outreach programs. Closer home in India, we have the National Museum in New Delhi, the Indian Museum in Kolkata, the Salar Jung Museum in Hyderabad, and the Chhatrapati Shivaji Maharaj Vastu Sangrahalaya in Mumbai are a few examples of museums that have virtual tours and collections like the ones abroad.
The COVID-19 pandemic has hastened efforts to digitalise the valuable collections in these museums and open them up. These virtual museums not only preserve digital collections of these artefacts for education but also inspire everyone to create great works for today,
By creating interactive and engaging virtual museums, interactive designers and user experience specialists are providing a great service in the efforts towards nation-building by implementing these technologies in museums. They deliver the key ingredients that deliver the huge success and patronage they enjoy from the public.
To help these designers, people have to provide both positive and constructive feedback for designers to undertake more challenging and rewarding projects. My message here is for everyone to support the efforts being taken by virtual museums and help them develop and deliver more interactive digital museum experiences for the nation.