Reading Time:
4
minutes
To make a successful sales pitch to a savvy, smart and up-to-date digital native consumer is no easy feat in today's world. Think about it.
In the past, car dealerships were hallowed destinations where car enthusiasts would walk in, enquire specifications of models from their favourite brands and sign up for test drives. But in the last few years, the ability to get details of any vehicle at the tap of a smartphone button have transformed this experience forever.
Let's face it. We are all guilty of googling crash test ratings or drivetrain details of a car. We look at every tiny detail, guide and review of a vehicle before even thinking about visiting a showroom. A well-made sales pitch by a carmaker or a dealer is, therefore, just not enough. This is where customer experience can be amped up with the help of AR, VR and MR, and leave a lasting impression on prospective buyers.
Virtual Reality Showrooms – the Way Forward?


While the infusion of virtual reality into traditional showrooms was a novel concept earlier, the pandemic has pushed this technological capability onto the centre stage. Today, most of us are happy to have the quintessential showroom experience from the comfort of our homes. Companies have also been quick to realise that the best way to deliver this experience is through virtual reality.
Customised virtual reality applications now allow customers to pop on a pair of VR Headsets and pick from a variety of options to visualise, build and drive their dream cars. Starting from the colour of the car, bespoke features, to the terrain on which the vehicle can be taken for a test drive, everything can be customised for the consumer.
However, the updated experience doesn't just stop at the showroom. AR is leading the way when it comes to a great experience for the customer post purchase.
Bid Goodbye to Clunky User Manuals
It is no secret that vehicle user manuals are hardly customer friendly. Vehicle owners typically pore through pages of cumbersome text before spotting what they are looking for. However, the infusion of AR can transform this less-than-ideal experience into a digitally charged one. Vehicle manufactures like Hyundai and others are harnessing the advantages of AR-enabled, elegantly designed smartphone apps.
Just by pointing a smartphone at a car dashboard, a user can get a complete visualisation on the features of each button. An accompanying digital dashboard also gives updates to the user on whether the oil levels are optimal or whether windscreen fluids need to be refilled. It is no surprise then that the augmented reality automotive market will grow at an annual rate of over 150% in the next year, reaching $5.5 billion by 2022 according to various reports.
A Fuss-free Driving Experience
Despite top-notch engineering prowess and luxurious interiors, driving on uneven and chaotic roadways is a pet peeve all of us have! The good news is that AR can make a significant difference in this area.
Normally, one does not have a view of a tricky terrain he or she is traversing on because the front or back of the car covers up the terrain. However, through an AR imaging dashboard, the car can be removed from view such that the terrain can be clearly seen. This allows the driver to navigate through the terrain much more easily. AR imaging can also highlight those pedestrians who always seem to be walking in the middle of the road, walking too close to one's vehicle or even worse, are likely to cross one's vehicle without warning.
But that's not all. There's more to the practical usefulness of AR, VR and a much less explored technology, MR.
Troubleshooting with Mixed Reality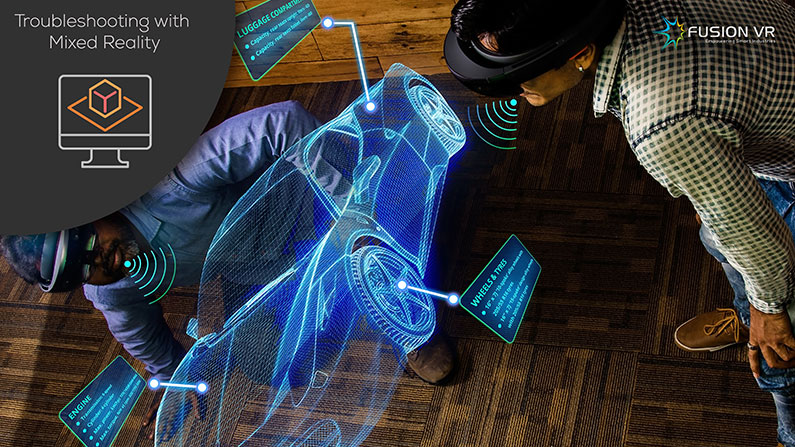 While AR and VR use cases are currently more prevalent in the automotive industry, mixed reality is also beginning to unleash unique capabilities. Take for instance, the use of MR in car repairs. The ingeniousness of the technology makes complex car repairs as easy as connecting to your home Wi-Fi. Many manufacturers are taking advantage of this ability to help customers troubleshoot common vehicle troubles by themselves.
In case of a malfunction, all you need to do is connect with the car maker over a call. The instructions are then relayed onto a mixed reality headset worn by you. The headset then overlays virtual images onto the physical car in the real world to help you understand what needs to be done. Lo and behold, you can then fix the vehicle yourself without the help of an expensive mechanic.
Furthermore, automakers have also been able to achieve 40% time savings through the use of MR in post-sales services. But these are all just examples. When it comes to AR, VR and MR technologies, there are myriad possibilities to offer to the automotive world and Fusion VR has been doing just that.
Fusion VR helps any and all of these capabilities take shape and more. Our unique and specialised expertise in AR, VR and MR has helped make science-fiction dreams into a practical and efficiency boosting reality for our clients. Be an early adopter and tap into the unlimited potential that these technologies offer to transform your enterprise in this digital age.