Nestled within a popular tourist spot in sunny Singapore, lies a virtual reality experience centre called ImmeX Zone. Established in 2014, ImmeX Pte Ltd is a young startup that develops its own Virtual Reality (VR) technology. From hardware development to content creation, ImmeX's virtual reality technology encompasses 720 degree Real Time 3D panoramic visuals with additional sensory information such as 7.1 Surround sound and physical FX such as vibrators, pokers, ticklers, blasters, hot/cold air etc. Earlier this year, ImmeX launched a trial in Singapore for visitors to try out its 3D virtual reality rides. Having read much about virtual reality in the news (especially since Facebook bought Occulus last year, much to the awe of many tech geeks/ gamers/ fanboys) and its possible applications, I was curious about ImmeX's trial launch in Singapore. Hoping to understand more, I met up with one of the co-founders of ImmeX, Himanshu Shah.
The Xperience
I was brought to ImmeX's temporary experience centre located in Sentosa. Arriving at the site, I was a little surprised to see that the experience centre was smaller than expected. But since this is virtual reality, I guess all one really needs is just space enough to install the VR system (which consists of a chair, headgear and a sensory-inducing device) and it's good to go.

As the seat was mounted a little high, I took some time trying to climb on it. A thought then came over me, wondering, if children would have problems getting on it too since ImmeX have kids' rides programmed for them. After getting on, I also had some issues with the VR goggles as it was a little bulky to fi t my face.

However, Shah was very patient and helped to adjust the VR headgear until I was comfortable with it. When asked if this could be because the original headgears were developed using westerners' physique, Shah said that they had noted the concern and were already working on developing headgears that will better fi t the Asian's physique - Sounds like some improved product is underway!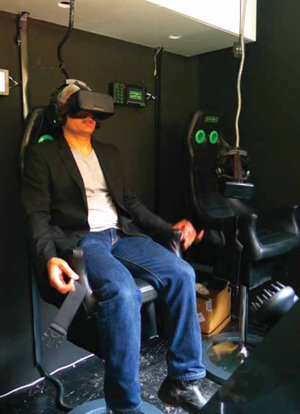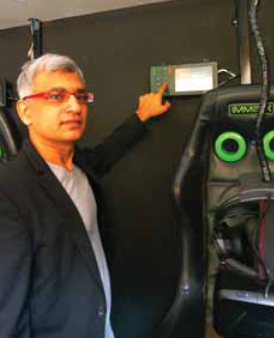 Despite some initial discomfort, I was still enthusiastic to try the VR ride. I mean, seriously, how many of us actually get to experience this cool technology – especially in Singapore? Besides, Shah also told me that ImmeX produces its own content for the rides. So that means everything – from the VR gear, setup, to production of content – were all done by ImmeX.

"What makes ImmeX special is the way we look at virtual reality and its future." said Shah. "While there are different VR solutions around the globe, ours is not only unique but also holds loads of promise on the future of the product too. It's not just the hardware and platform but also the contents we make for the hardware and the fact that we continue to make contents which are backward compatible."

"And most importantly, the technology which drives the core of the system is home-grown and we have total control of most things."
While speaking, Shah meddled with the control panel mounted on the wall behind the VR system. With the touch of few buttons, the setup was done. To me, it seemed quite easy to operate the VR system. Would a layman be able to use this system without much training or technical knowledge? I asked. "Sure, this VR system is made simple so that anyone can use it," was his reply.

"We have two business models, one is the bespoke model and the other is the franchise model, where people work with us as partners and we put the rides in their location and share revenue with them."

So what is Immex's business model?

"For the bespoke model, clients will commission us for specifi c projects and they will buy both hardware and software from us to make it happen in a location of their choice, i.e. museum or experiential centres etc," he explained.

With the VR system up and running at this point, I couldn't hear Shah anymore. The audio from my VR headgear was already blasting away and all environment noise had been cut off totally.
The VR content I was put on, simulated a roller coaster ride. During which, I saw sharp turns, ups and downs of the path laid in front of me, and as I was moving along the line, I could also feel sensations such as vibrations from the chair and wind blowing on my face.

But what really took me by surprise was when the 'cart' went down a steep slope, I could actually feel the vertigo! My heart jumped a little as we were going down, making the whole experience realistic. Not to also mention that when I turned my head around, the scene in front of my eyes also adjusted itself automatically, making it as if I was really looking around my surroundings. Though the ride took only 5 minutes, it was entertaining. Content-wise, it could do with some work in terms of graphics and sound, but I believe it has got great potential. And since this is a trial launch, ImmeX has been gathering feedback from end-users to improve their product. Last I heard, ImmeX will also be doing some redesigning so that the system will be more mobile for events applications.

When asked about the reception so far, Shah replied that people were very interested as this is a departure from the usual 3D or 4D technology. "Our trial rides have been totally immersive and they get to experience different things. They are 'transported' to different worlds where they can look around and see different things happening, so the trials have been well received."

Besides Singapore, India was also one of ImmeX Zone's trial launch locations. "In India, it has been very well-received too. After the trial runs, we had queries for military visualization as well as engineering visualization for theme park rides etc. Now, we are looking to work with different partners to install the system in multiple locations within this year," he continued.
Xperience Aftermath
After the ride, Shah and I sat down for a chat. Because much of the R&D work were done in-house, I was curious about the experience and expertise of the ImmeX team.
"Between Singapore and India, we have a team of about 10 people in R&D, mostly graduate scientists or PhD students," said Shah. "The core research team is based in India and they are responsible for engineering, content creation and programming the VR system that makes this happen. We also conduct some basic research on aspects of 3D viewing here in Singapore. Occasionally, we also outsource research to the US for projects we are unable to conduct in these regions."
So what is it that attracted him and his partners to invest in virtual reality technology?
"Since there has been no compelling change in the media fi eld for a long time, we thought that virtual reality could be a unique technology to bring to the region. While stereoscopic 3D was one attempt to move media beyond the 2D TECH XPERIENCE Systems Integrati on Asia June - July 2015 70 screen, it had only worked up to a point. But with virtual reality, we realised that this actually made much more difference in terms of how media is being viewed. It changes experiential experience to the point where you can really, really feel the difference, as compared to stereoscopic 3D."
Unlike VR companies who are based in US or Europe, ImmeX is an Asian startup. So what kind of future does ImmeX foresee for VR technology in Asia? "I see Asia as a young economic region that can absorb new technology very quickly. As younger population tend to adopt new technology faster, Asia is a very good market. I can see that the next couple of years will be very interesting and I cannot see it going any other way."